Wendy Darling
Biographical Information
Full Name
Wendy Darling
Alias
Other Name(s)
Age
Birthplace
Home
Occupation(s)
Morality
Characteristics
Gender
Female
Race
Human
Eye Color
Hair Color
Relationships
Relative(s)
John Darling (brother)
Michael Darling (brother)
Affiliation(s)
Allies
Minions
Enemies
Powers and Abilities
Power(s)
Weakness(es)
Equipment
Background Information
First Seen
Once Upon a Time (S02E21)
Last Seen
Once Upon a Time (S03E10)
Voice Actor(s)
Portrayed by
Freya Tingley
[Source]
Biography
Edit
"There's a reason it's called Neverland - because once you set foot on it's soil... the shadow never lets you leave..." - Wendy Darling
Wendy lets a young boy named Baelfire stay in her house. When her parents discover it, they treat Baelfire like their own son. But, unbeknownst to the two of them, Baelfire's grandfather, Peter Pan, was seeking boys to become the Lost Boys, and so he sent the shadow to the Darling's window. By mistake, on the first night the shadow takes Wendy to Neverland, against Baelfire telling her that magic always comes at a price. Wendy Darling believes in magic and wonderment, and the thought of Neverland excites her, until she discovers that Neverland is not what it seems. She befriends Baelfire, the grandson of Peter Pan, and is manipulated into almost getting Bae's son, Henry, killed. The next night, her, Bae, and the two boys prepare to take down the shadow, until their plan backfires and tries take Michael Darling. Bae sacrifices himself and is dragged to Neverland, becoming, not only an ally to Captain Killian Jones, also known as Hook, but also a Lost Boy to a boy he was unaware was his grandfather. Wendy feels responsible for Bae being taken to Neverland and goes after him, but soon becomes a prisoner of Pan for over a decade.
Physical attributes
Edit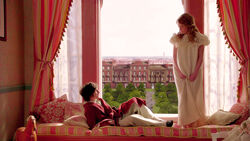 Wendy is portrayed by twenty-year-old Freya Tingley. Her character has blonde hair which is done up in curls, and a white nightdress.
References
Edit
Community content is available under
CC-BY-SA
unless otherwise noted.