Jurassic World: Dominion Dominates Fandom Wikis - The Loop
Play Sound
"Arrrrrr....blast Thy Peter Pan and his atrocious band of Lost Boys, our Captain Hook will defeat them all!" -Peter Pan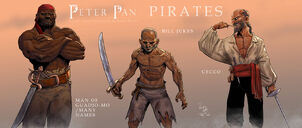 Pirates are the antagonistic group of foul mouthed and murderous criminal men who work for Captain Hook. They live on Hook's pirate ship in Neverland and are a major part of the Peter Pan story. They first appeard in J. M. Barrie's classic children's novel titled Peter and Wendy, published in 1911.
History
[
]
The only official Neverland pirate crew in the original is that of Captain Hook, although some adaptions have included other crews as well.
Known Pirates
[
]
Bill Jukes: Used to be on the Walrus under Flint, and is heavily tattooed.
Cecco: A very handsome Italian fellow, who was said to have "cut his name in letters of blood on the back of the governor of the prison at Gao".
Cookson: He's said to be the brother of real-life pirate Black Murphy ("but this was never proved").
Noodler: Not much is known about him, except for the fact that his hands are fixed on backwards, and he is superstitious, like all sailors.
Skylights (Morgan's Skylights): He is killed off early in the novel "to show Hook's method".
Black Pirate: It's only stated that he is gigantic and has had many names that still terrify children on the banks of the Guadjo-mo.
Alf Mason: One of the pirates who was killed in mortal combat with, Lean Wolf early on in the battle between the pirates and Tiger Lily's braves.
Robert Mullins: He's killed by Peter in the final battle with the pirates.
George Scourie: Another casualty during the final battle.
Chas Turley ("Chay Turley" in the play): He's said "to laugh with the wrong side of his mouth (having no other)"; another casualty in battle by the Piccaninnies.
Foggerty: An Alsatian who also died in the final battle.
Whibbles: He wears an eyepatch and is the first casualty in the final battle.
Ed Teynte: The quartermaster in the novel (but not mentioned in the play), was the first killed in the last battle (instead of Whibbles).
Black Gilmour (only in play): Killed in battle by the Piccaninnies.
Alan Herb (only in play): "Still remembered at Manaos for playing skittles with the mate of Switch for each other's heads"; killed in battle by the Piccaninnies.
Canary Robb (only in play): Killed in the above battle.
Jake and the Never Land Pirates
[
]
Captain Hook's crew boils down to the characters Smee, Bones and Sharky in this show. And in this cartoon, virtually all adult characters are pirates following the franchise's rule that the only adults in Neverland are pirates: Red Jessica, Captain Flint. And characters were made that are two things at the same time and one of them is a pirate: Pirate genie, pirate princess, pirate magician, mummy pirate and so on.
Gallery
[
]