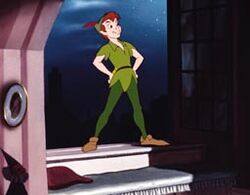 Peter Pan is a main character in Disney's animated movies, Peter Pan and its sequel Return to Never Land.
Biography
[
]
During World War II, Wendy Darling's slightly war-hardened daughter Jane, who doesn't believe her mother's stories, is taken to Neverland by Captain Hook, but Peter saves her and asks her to be the Lost Boys' new "mother".[1]
Physical attributes and age
[
]
Peter is seen in green tights and a green shirt, with red hair and a hat similar to the one worn in Disney's Robin Hood. Peter's ears in the Disney films are pointed, giving the character a fairy-type look.
Peter appears to be in late childhood, between 10 and 13 years old.
Personality
[
]
Peter can also be quite sarcastic, he seems ironical and  intelligent.  He insults the Lost Boys, turns his back on Wendy Darling and her brothers (for a short time when they say they want to go home), and he banishes Tinker Bell without a second thought. However, Peter has shown to be a very good-hearted hero who does genuinely care about his friends.
Abilities
[
]
Peter is able to fly by having both "happy thoughts" and pixie dust.
Gallery
[
]
Peter Pan (Disney character)/Gallery
See also
[
]
References
[
]