Peter Pan (2003) is a live action film directed by P. J. Hogan. It stars Jeremy Sumpter, Jason Isaacs and Rachel Hurd-Wood.
Peter Pan is the main protagonist on the film. He lives the far away magical place called Neverland, where the fairieslive. This is apparently located at "the second to the right, and straight on 'till morning", but Peter made this up on the spot to impress Wendy.
Peter Pan takes Wendy to Neverland where she meets The Lost Boys. Wendy becomes Peter's "wife" and have the Lost Boys as their children. Peter is cautious of Wendy speaking about going home. He does everything he can to try to get her to stay.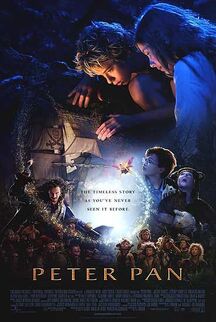 End
Peter is fighting Captain Hook, when Hook tries to get Peter out of the sky by reminding him of Wendy going home and having the window closed. He falls and gets a cut on his forehead. Almost killed, Wendy saves him.
​Wendy's quotes:
"This belongs to you. And always will".
Peter then recieves a kiss from Wendy. Wendy's plan works succefully and Peter bursts into laughter and fights on Captain Hook with the crocodile eating him whole. Hook was done for.​
Peter Pan
Peter is a lost boy. He does not want to grow up. When he was young, he ran away to Kensington Gardens where he met Tink, his fairy bestfriend. Tinkerbell is over-protective of Peter. Apart from his fairy, there are many other people who live in Neverland. His is the leader of a small gang, The Lost Boys, who are a bunch of children taken from their prams when they were little boys. The members of The Lost Boys are Slightly, Tootles, Curly, Nibbs and The Twins. Indians, Mermaids, fairies and pirates lives in Neverland.
Captain James Hook is a pirate, and the antagonist of the film. He is always after Peter, after he cut Hook's hand off and threw it to the crocodile. As stories tell, Peter Pan is apparently in love with the young girl Wendy Darling, but in this adaptation refuses to grow up and feel the love. After spending so much time with the fairies in Neverland, he has become fairy-like, after soaking up all the fairy dust.
See also
Community content is available under
CC-BY-SA
unless otherwise noted.