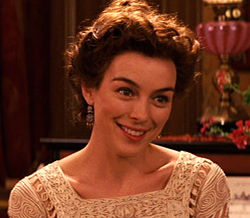 Mary Darling is the wife of George Darling and the mother of Wendy Darling, John Darling and Michael Darling, who travel with Peter to Neverland.
Mrs Darling, as she is most commonly refered, is a loving wife and mother. She is said to have a kiss that she hold in the right hand corner of her mouth, which is reserved for one person, who is neither her husband or any of her three children. It is later said that her kiss looks very much like Peter Pan.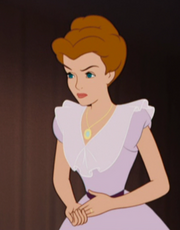 Hidden on the right hand corner, was a hidden kiss upon her lips.[citation needed]
Wendy soon leaves, leaving Mrs. Darling heartbroken. She searches for Wendy unsuccessfully. Exhausted, she sits down in the rocking chair saying Wendy's name in her sleep
Appearance
.She is shown to have light brown hair in a bun,and is quite beautiful.Wendy looks quite like her.
Community content is available under
CC-BY-SA
unless otherwise noted.