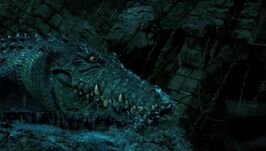 The Crocodile swallowed Captain Hook 's hand and now follows him around to eat the rest of him. It also swallowed Hook's tick-tock clock which will make everyone know of it's presence.
Biography
[
]
The crocodile is said to be female, and began trying to eat Captain Hook after having a taste of his hand. She eventually succeeded in this goal.
Other Novels
[
]
In Peter Pan in Scarlet, the crocodile was killed by Captain Hook's poison after trying to digest him.
In Peter and the Starcatchers, the Crocodile is male and named Mr. Grin, and prior to Hook, had already begun feasting on human flesh.
Appearances in adaptations
[
]
In the Disney film, the Crocodile's name was Tick-Tock, because of his tick-tock sound of the clock he swallowed. He also tried to eat Hook every time he appeared. In the near end, he chases hook, hoping to eat him.
In the 2003 film, the croc eats Hook as he is flying.
In the 1991 film Hook, the crocodile is turned into a clock tower but comes back alive near the end and eats Hook.
In SyFy's Neverland the lost boys go hunting for giant crocodiles and one chases Tiger Lily, and as Hook and Peter are fighting, Peter cuts off Hook's hand and the crocodile eats it. Hook then drops his clock in the water below and the crocodile eats it too.
Main article: Crocodile (Once Upon a Time)